Which nations work the longest?
Having the opportunity for a successful career is important to many of us, with one of the many benefits being a feeling of achievement and accomplishment, which helps boost our sense of value and worth.
This feeling of wanting to work hard in a role we enjoy comes as no surprise, especially when you consider that we are expected to spend an average of 90,000 hours at work in our lifetimes. However, for many of us, spending an average of 40 hours a week (8 hours per day) in our workplaces can make it easy for us to feel overwhelmed, especially when you're juggling commutes, responsibilities at home, and social life.
Using International Labour Organisation data, RS Components has analyzed the working hours of almost 100 countries to see which nations are spending the most and fewest hours at work.
The analysis of the ILO data revealed the Netherlands enjoys the best work-life balance of all the nations analyzed. On average, workers in the Netherlands have a working week which consisting of just 32 hours, amounting to under 6.5 hours across five days and 1,536 hours per year. This figure suggests that Dutch companies value quality over quantity when it comes to working hours, and believe efficiency and productivity does not come from working extensive hours every day.
Nations that work the least hours on average:
The nations with the second-fewest working hours were Australia, New Zealand and Rwanda. Often associated with being laid-back, those in Australias and New Zealand can see this association reflected in their working culture, working an average of 33 hours a wee – 1,584 hours per year.
Somewhat unsurprisingly, the Scandinavian nations of Denmark, Norway, and Sweden all rank in the top 5 nations for having the shortest working weeks.
Joining the likes of Finland and Sweden, the UK ranks joint fifth when it comes to the fewest working hours, with an average working week totaling to 36 hours, alongside many other European countries.
Nations that work the most hours on average:
In terms of the nations with the highest working hours, Qatar takes the top spot. Employees in the Gulf State are expected to work an average of 49 hours per week, 17 hours more than the likes of the Netherlands, in other words, an extra 3.4 hours each day, based on a five-day working week.
Compared to the UK, Qatar works 13 more hours, an amount that in the UK is not legally permitted unless officially stated and agreed upon by the employee and employer.
The nations where workers are on average matching the legal limit of working hours for those in the UK (48 hours a week), are in Myanmar and Mongolia. Closely followed by the likes of Pakistan, Bangladesh, China, and Mexico.
Overall, while many of us struggle to leave our work in the workplace, with 43% of office workers admitting to checking work emails at home and almost half staying at the office after hours, RS Components analysis suggests that, on average, you might still have a better work-life balance than workers in most other nations.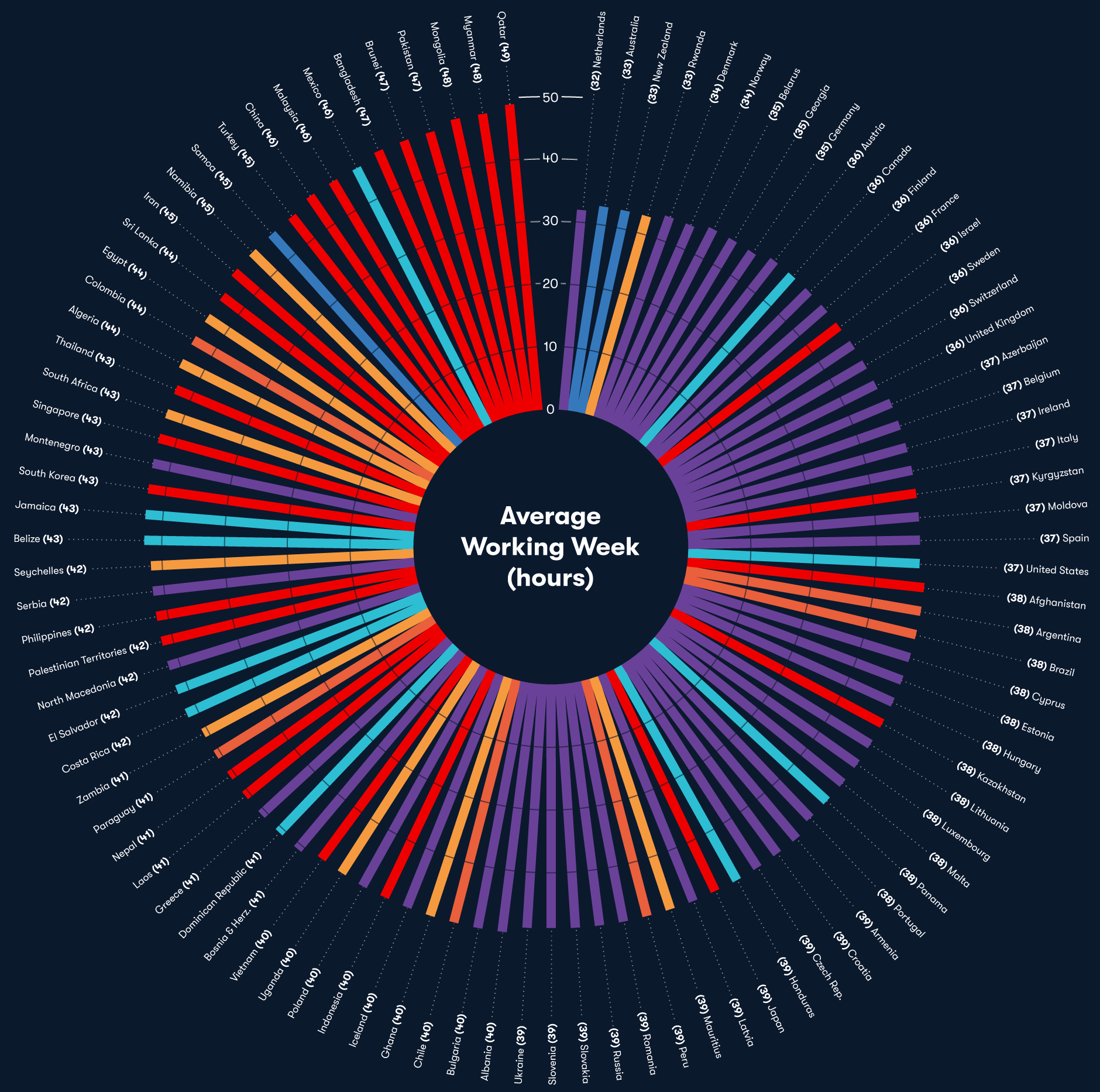 Source: https://uk.rs-online.com
Related